Could you use a remortgage for home improvements? Find out everything you need to know in this comprehensive guide.
Think carefully before securing other debts against your home. Your home may be repossessed if you do not keep up repayments on your mortgage. 
Before considering a home improvement mortgage you should consider saving up or an unsecured personal loan, however, home improvements and repairs can be incredibly expensive. Personal loans only allow you to borrow over a short period of time, and it could take years to save up enough to complete the works you need to do.
That's where you could consider remortgaging for home improvements. This extends borrowing over a long period of time and can make monthly repayments more affordable, but remember a mortgage is a secured loan, and extending the repayment period over several decades can result in a lot more interest being paid overall.
Introduction – Unlock Your Home's Potential with Remortgaging for Home Improvements
Your home is your sanctuary, a place where you create memories and enjoy the comfort of your surroundings. However, over time, your home may require renovations to maintain its appeal and functionality. While home improvements can significantly enhance your living space, they can also come with substantial costs. This is where remortgaging for home improvements emerges as a viable solution to finance your renovation dreams.
What is Remortgaging for Home Improvements?
Remortgaging for home improvements involves refinancing your existing mortgage to release equity from your property. This equity, which represents the difference between your home's current value and the outstanding mortgage balance, can be used to fund various home improvement projects.
Methods of releasing equity for home improvements
There are three primary methods for remortgaging to finance home improvements.
Remortgage to a New Lender (normally at the end of your fixed rate)
This involves switching a mortgage to a new lender, and requesting an additional balance for home improvements in the process. This method is particularly popular where the fixed rate end date is near, as it allows the borrower to shop around for the right deal accounting for the additional borrowing required.
The balance of your existing mortgage, plus the additional borrowing for home improvements are normally combined into one mortgage, with the rate being driven by the total balance of that mortgage as a percentage of the property value (LTV) – in the below example, 50% LTV before, 70% after.
Example: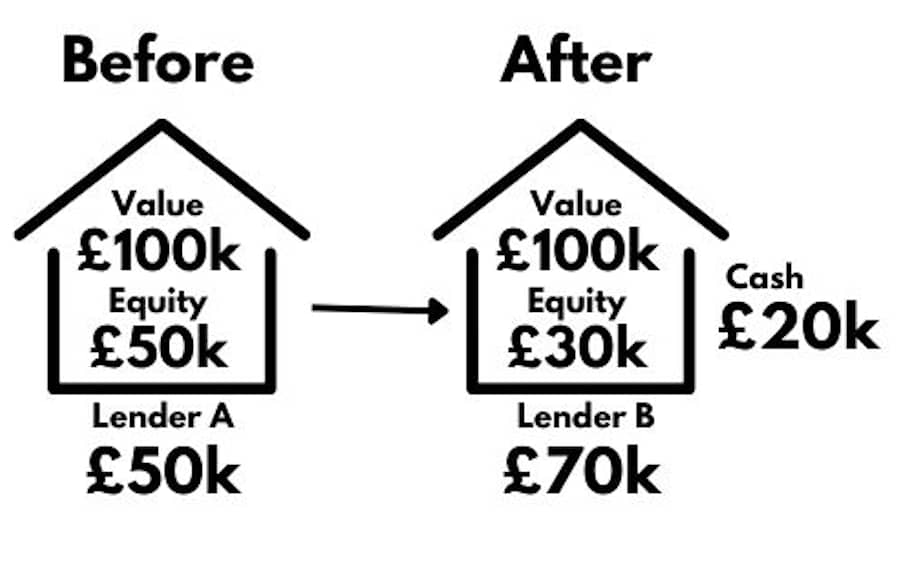 Before: £50k mortgage over 30 years @ 5% = £268cpm
After: £70k mortgage over 30 years @ 5.5% (higher rate because of increased LTV) = £397pcm
Switching to a new lender during your fixed rate could result in additional charges (ERCs).
At the end of the fixed rate, the best deal could be with the existing lender. In that case it's typically possible to do a product transfer combined with a further advance.
02. Further Advance with Existing Lender (normally during your fixed rate)
This normally involves retaining the existing mortgage and borrowing an additional amount on top to pay for the home improvements. This method is particularly popular where the borrower is currently subject to exit charges / ERCs on their existing fixed rate – making switching lender costly.
The existing mortgage typically stays as it is, with the fixed rate end date unchanged. Subject to eligibility and affordability an application is then made to borrow the additional amount for home improvements.
This additional amount is typically held in a separate mortgage account, or sub account. Your monthly payments will be taken as one, but the rate and fixed period end date could differ on the further advance balance.
Example: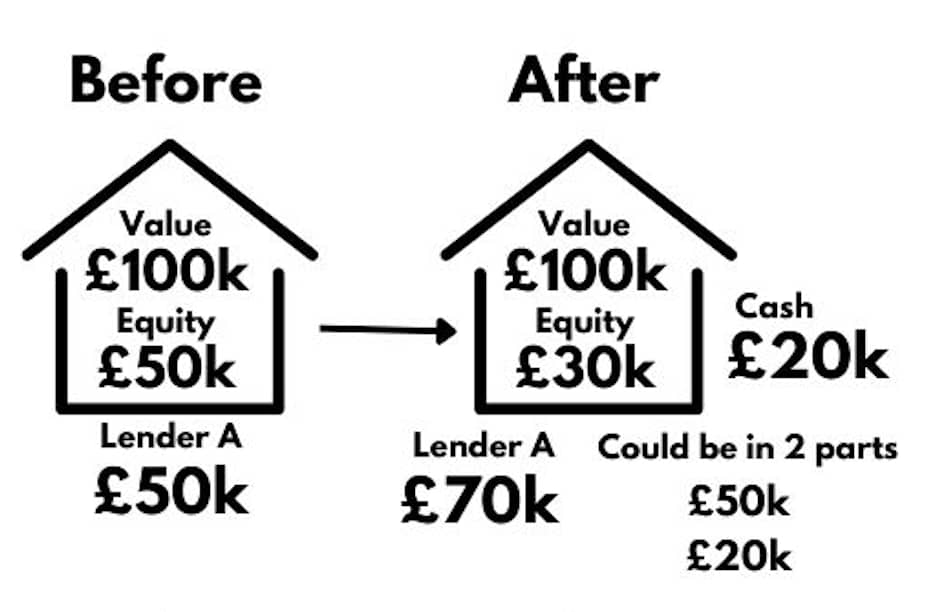 Before: £50k mortgage over 30 years @ 5% = £268cpm
After: (£50k mortgage over 30 years @ 5% = £268) + (£20k mortgage over 30 years @ 5.5% = £114) = £382pcm
One the fixed rate on the original balance ends, this part of the loan will then normally only qualify for the higher LTV rates.
Although further advances tend to be more cost effective than remortgages during the fixed rate period, this is not always the case, it's vital to give consideration to all available options and charges.
03. Second Charge (Normally where methods 1 and 2 are either not cost effective. or not possible)
This method involves taking out a separate mortgage, secured against the property, to release the cash needed for the improvements. The existing mortgage is retained.
A second charge is often more flexible in terms of criteria an eligibility requirements. It also enables you to keep your existing mortgage in place. Particularly useful where the existing mortgage offers, for example a very low fixed rate for a long term, and you do not meet that lenders eligibility requirements to borrow more.
We will not go into second charges in any more detail here.
Example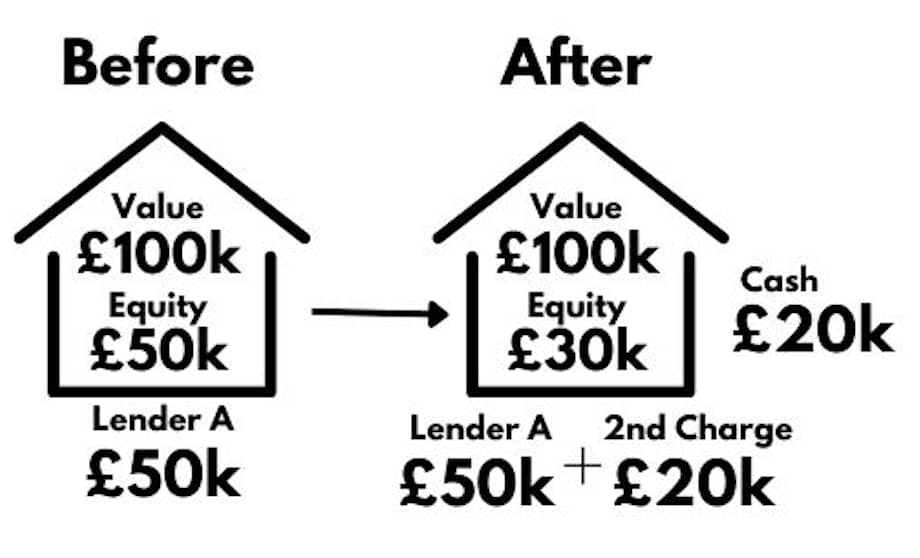 Please seek specialist advice before considering a second charge. It is still a secured loan so your home could be repossessed if you miss payments.
Eligibility Requirements for Remortgaging for Home Improvements
To qualify for a remortgage for home improvements, you must meet certain eligibility criteria:
Loan-to-Value (LTV) Ratio: LTV represents the percentage of the property value you can borrow against. For home improvements, lenders typically allow LTVs up to 85%.
Income Affordability: Your income must be sufficient to cover the repayments of the new mortgage, including the additional amount for home improvements. It's not normally possible to borrow any more than 4.5x your gross household income – depending on your personal circumstances.
Factors to Consider When Remortgaging for Home Improvements
Before embarking on a remortgaging journey, consider these crucial factors:
Timing: Remortgaging is normally most advantageous when your existing fixed-rate mortgage term is nearing its end. This avoids early repayment charges.
Cost Comparison: Evaluate the interest rates and fees offered by various lenders to secure the most cost-effective remortgage deal. Also consider options such as saving, unsecured borrowing, staying with your existing lender or even alternative solutions such as second charges. It's possible that any one of these could be right for you.
Project Scope: Accurately estimate the total project cost to ensure you borrow sufficient funds to complete the renovations
What interest rates can I expect on a home improvement mortgage?
Interest rates for home improvement mortgages are generally comparable to standard mortgages. Be mindful that the total cost of any mortgage is typically driven by the loan to value. That will be higher whenever you're borrowing more using a mortgage.
Can I borrow more than the cost of home improvements?
While it's tempting to borrow more than necessary, it's crucial to consider your affordability and avoid overstretching your finances.
That being said, ensure you borrow enough to enable you to complete the works intended. Applying to your lender for additional funds is often not possible for a period after remortgaging for home improvements, and the process can be costly.
Typically, lenders allow you to repay up to 10% of your mortgage balance each year without penalty, meaning if you came in under budget, and had funds left over, you could probably pay them back to the lender without penalty.
What are the pros and cons of remortgaging for home improvements
Pros:
Access to funds for home improvements
Potentially lower interest rates than personal loans
Extended repayment term means lower payments
Cons:
Risk of repossession if repayments are missed
Potential early repayment charges if remortgaging before the fixed-rate term ends
Repayments spread out over a long term means a large amount of interest paid over time
Common Mistakes to Avoid
When embarking on a remortgaging journey for home improvements, steer clear of these common pitfalls:
Overestimating Loan-to-Value (LTV): LTV represents the percentage of your property's value you can borrow against. Typically capped at 85% for home improvement remortgages. LTV for home improvements is based on the homes value at the time of the application. Not the value when you've finished the works!
Underestimating Income Requirements: Your income must adequately cover the repayments of both your existing mortgage and the additional loan for home improvements. Avoid overstretching your finances by ensuring your income can handle the combined burden.
Disregarding Loan-to-Value Limits: Exceeding the permissible LTV can result in higher interest rates due to the increased risk for the lender. Stay within the established LTV limits to avoid incurring additional costs.
Inaccurate Cost Estimates: Don't pluck a random number out of thin air for renovation costs. Obtain detailed quotes from reputable builders to demonstrate your financial preparedness to the lender.
Essential Documents for Your Application
Gather the necessary documentation to streamline the remortgaging process:
Bank Statements: Provide recent bank statements to establish your financial standing and transaction history.
Identification: Submit valid government-issued identification documents to verify your identity.
Payslips: Proof of income is crucial for assessing your affordability and repayment capacity.
Evidence of Renovation Work: Present quotes or plans detailing the intended renovation project to demonstrate the purpose of the loan.
Timeline for Receiving Funds
The time frame for receiving funds varies depending on the chosen method:
Further Advance with Existing Lender: This option typically involves a shorter processing time, potentially within weeks.
Remortgaging with a New Lender: The process may take several months, especially if you want to avoid early repayment charges on your existing mortgage.
Lender verification of completion
Although they could ask to do so, lenders typically do not inspect the completion of renovation work. However, misusing funds for purposes other than those disclosed to the lender could be considered fraud and may lead to consequences.
Special Deals for Green Home Improvements
Some lenders offer special deals, such as lower interest rates or reduced fees, for home improvements that promote energy efficiency and sustainability. Explore these options if your renovations align with eco-friendly practices.
Conclusion
Remortgaging for home improvements presents an opportunity to enhance your property and enjoy the comforts of an upgraded living space. By carefully evaluating your options, gathering essential documents, and understanding the application process, you can navigate the remortgaging journey with confidence and secure the necessary funding to transform your home into your dream haven.