Update: Though this article was published in Oct 2022, it remains relevant.
Are you worried about investing now or adding more money to your portfolio?
Markets have seen significant volatility so far in 2022. Global equity markets are down 11.5% this year*, at one point, they were down as much as 16% – but of course, markets do not operate in a linear manner and we've seen a few 'ups' and a lot of 'downs'. This type of environment can shake your confidence, and you may question your investment strategy or decide not to add more cash to investment markets.
Back on 26th March 2008, markets had dropped 12.1% from their peak in October 2007. With the benefit of hindsight, we know what happened over the following years, but what if we were back in March 2008 and didn't know what was coming?
We test out three scenarios with a £100,000 investment to see what happened.
Investor A invests £100,000 in March 2008
Investor B invests £100,000 over a 2 year period, starting in March 2008
Investor C decides the market is too volatile, and would rather sit in cash for some time and invest when market confidence is restored (in two years time).
What were the results?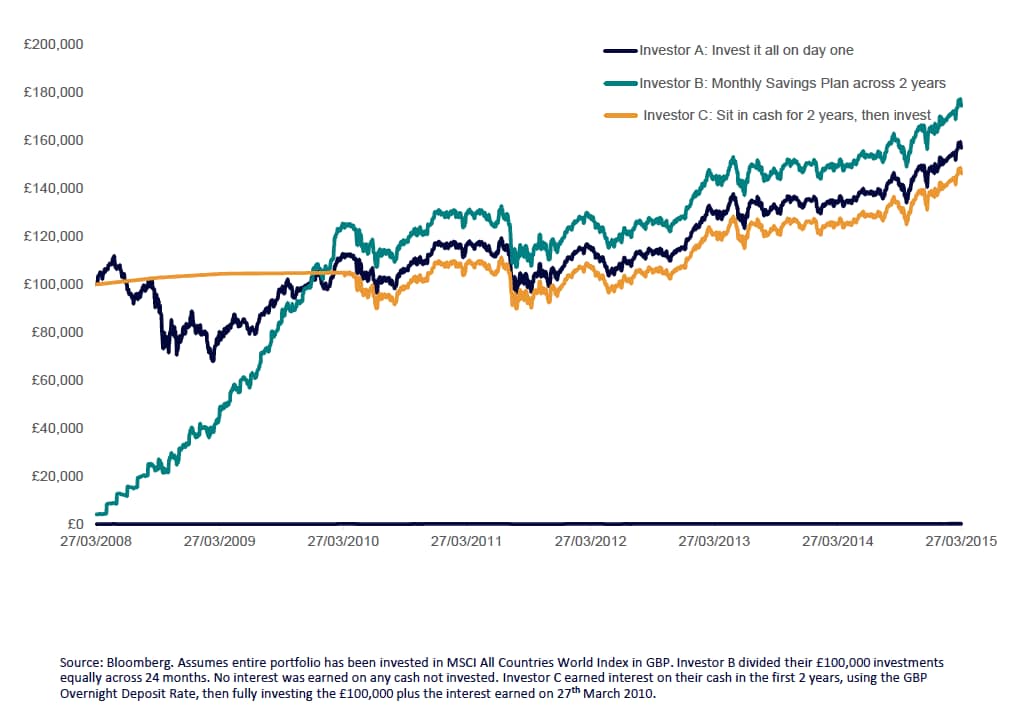 Investor A experienced volatility in the early part of their investment journey. But markets recovered well. By 2015, their investment had grown to £156,781.
Investor B had a smooth return profile to begin with. This is because they got the benefits of 'pound-cost-averaging'. This is because the market fell between March 2008 and March 2009, so the assets purchased were cheaper on average. Over the period of comparison, investor B achieved the best returns. Their investment had grown to £174,295.
Investor C didn't experience the initial volatility in the market, but also missed out on the initial parts of the recovery. They did eventually invest and by 2015, their investment was worth £146,135. Significantly less than the investors who remained invested.
In the above scenario, those investors who remained invested and spent more time in the market were rewarded. Contributing over time, as opposed to on a one-off basis further benefited Investor B, because it meant that assets were purchased, on average, at a lower price than investor A.
At a time of heightened market volatility like the one we are experiencing, a strategy of adding to your portfolio through a regular investment plan (i.e. drip feeding your cash into the market) can be an effective away of adding to your portfolio whilst removing any potentially difficult decisions.
Investor C benefited from cash interest of around 5.55%** in 2008. As of 30th September, you could expect to get less than 1/2 of that for cash deposits, the rate stood at 2.35%. This makes cash deposits even less attractive.
Time in the markets, not timing the markets
Nobody knows how long the current market downturn will last but history tells us that the average bear market (when markets fall 20% from their peak) lasts less than a year, but the average bull market (when markets recover 20% from their lows lasts almost 4 years. Trying to time when is the right time to invest can be a difficult and costly decision.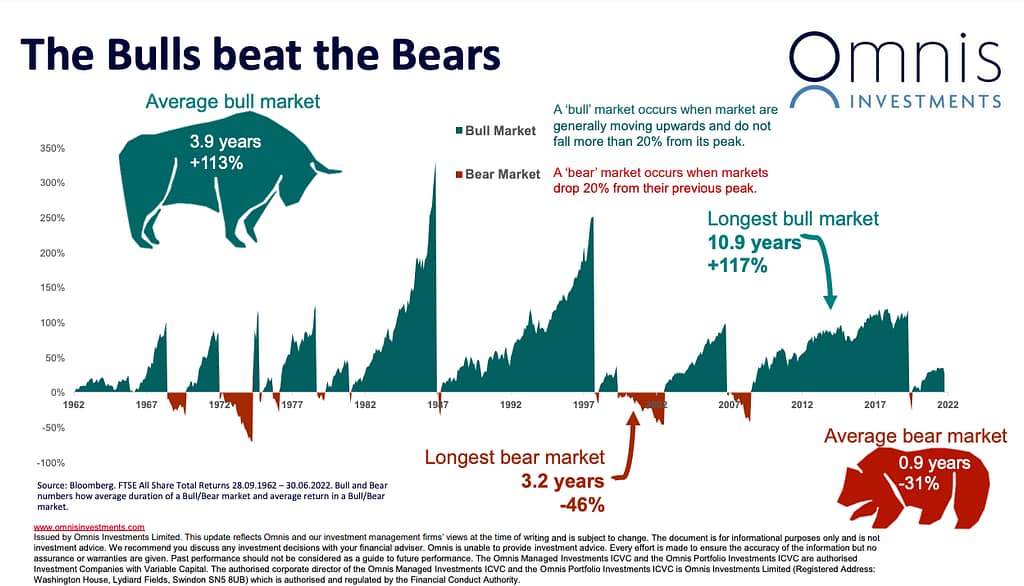 We have made a number of assumptions in the above analysis. Of course, it's important to highlight that past performance is no guide to future returns. We've also assumed, for simplicity, that investor B get's no returns on the cash they hold back during their phased investment, so in reality, their returns would be even higher.
When deciding when and how to invest, it important you discuss your investment options with your financial adviser. If you would like more information based on any of the above analysis, or larger format graphs etc, please get in touch.
*MSCI ACWI Index in GBP YTD to end September 2022: Source; Bloomberg
**Source Bloomberg
www.omnisinvestments.com. Some of the information above is issued by Omnis Investments Limited. This update reflects Omnis and their investment management firms' views at the time of writing and is subject to change. The document is for informational purposes only and ins not investment advice. We recommend you discuss any investment decisions with your financial adviser. Omnis is unable to provide investment advice. Every effort is made to ensure the accuracy of the information but no assurance or warranties are given. Past performance should not be considered a guide to future performance. The Omnis Managed Investments ICVC and the Omnis Portfolio Investments ICVC are authorise investment companies with Variable Capital . The authorised corporate director of the Omnis Managed Investments ICVC and the Omnis Portfolio Investments ICVC is Omnis Investments Limited (Registered Address: Washington House, Lydiard Fields, Swindon, SN5 8UB) which is authorised and regulated by the Financial Conduct Authority.