Friendly Mortgage Brokers in Cardiff.🏴󠁧󠁢󠁷󠁬󠁳󠁿


Our 5* rated mortgage brokers in Cardiff have empowered 100s of homeowners like you.



We unlock access to deals from 50+ lenders worry free.



Get in touch today and let us simplify every stage of your home-buying / remortgage journey.
Friendly Mortgage Brokers in Cardiff. 🏴󠁧󠁢󠁷󠁬󠁳󠁿



Our 5* rated mortgage brokers in Cardiff have helped 100s of homeowners like you.



We unlock access to deals from 50+ lenders worry free.



Get in touch today and let us simplify every stage of your home-buying / remortgage journey.
Moving home or remortgaging can be overwhelming and time consuming.
Aside from juggling lawyers, valuers and estate agents, you've got to worry about finding the right mortgage deal in a market that's more volatile than ever. 
Making the wrong choice could cost you thousands, or worse restrict your financial options in the future.
At Exley Financial Planning, we'll work tirelessly to get you the right mortgage. But it doesn't stop there.
Throughout your journey we'll offer personalised tips on ways you can improve your financial reliance and plan for the future. 
Our Wales based experts are here to give you the professional, personable advice you're looking for, whenever you need it. 
We'll be in your corner as you encounter agents, solicitors and valuers, and where you need help outside of our expertise, we'll put you in touch with the right people. 
Get started online today and find out how we can help you make the right financial decisions and take the next step in your home ownership journey with confidence. 


Home Movers



First Time Buyers



Buy To Let



Holiday Let / Second Home in Cardiff, West Wales or further afield
Our mortgage brokers in Cardiff have over 25 year of combined experience. We've seen all sorts of complex cases before.
But there are some areas where we're particularly specialist: 



Company Director and Self Employed Mortgages



Defaults, CCJs or bad credit



Foreign nationals living in Cardiff or South Wales
YOUR HOME MAY BE REPOSSESSED IF YOU DO NOT KEEP UP REPAYMENTS ON YOUR MORTGAGE
Some Buy to Let Mortgages are not regulated by the Financial Conduct Authority.
7 Mortgage Mistakes You Need To Avoid

Your Initial Call is completely fee free.

Join 1.2 million clients who've benefited from the Openwork Advice Guarantee.

Our mortgage brokers in Cardiff know the local market inside out, and the opportunities available for Welsh homebuyers.

We love a complex case. With over 25 years experience, we've seen it all.

1. Free Initial Call.
We like to keep this relaxed. We'll be able to give you a good idea of the options available to you. This is your chance to pick the brain of your mortgage brokers in Cardiff.
If  you want to get things moving, we'll let you know what we need from you next to get the ball rolling.

2. Sit back and let us guide you through our process.
We'll work through all of your documents. We'll let you know what deal works best for you and get your mortgage approved.
We'll keep in touch with you all the way through, on the end of the phone, or via video call.

3. We'll let you know what else you should be thinking about.
Throughout the home-buying or remortgage process, you'll have other things to think about.
Aside from surveys, solicitors and home insurance, we'll encourage you to think about putting arrangements in place to ensure your family is supported if you become ill or die.
We'll also offer to help you build a plan for retirmenet.

You've competed! Enjoy
Once you're all set up and the process is complete, we'll be in sure to get in touch when it's time to remortgage!
What is a mortgage (and why is it called a mortgage)?
The word mortgage actually comes from the old French mort gage which means "death pledge" – cheery! This language described a liability that dissipated either when payment was made, or when the borrower died. Not miles away from what a mortgage is today.
Today, a mortgage is a long term loan that is 'secured' against your home. The security element of the mortgage is important, because it enables lenders to risk lending you more money over a longer period, knowing that if you fail to keep up payments, they can take ownership of and sell your home to get back the money they're owed. 
Who can get a mortgage in Cardiff?
We're pretty confident that if you're at least 20 years of age, have a sustainable income that can support mortgage payments, a reasonable deposit, and have found a property in Wale or further afield that would make good "security" (see above), then a mortgage can be found for you.
The rate you get, and the type of mortgage you qualify for will depend on how safe a bet you are to a lender. That is, the better your income, the bigger your deposit, the more saleable your property, the more likely you are to get approved on the best rates. 
How do you get a mortgage in Cardiff?
When you think you need a mortgage, the first step is often looking online or arranging in person or online appointments with mortgage lenders such as banks or building societies.
It can take a while to get an appointment to speak to someone, and the process can be complex and time consuming. Provided you've got a deposit, a Cardiff based mortgage broker might be able to help you get a mortgage approved more quickly, and unlock more options.
How does a mortgage application work?
Before sending off your mortgage application, your mortgage broker in Cardiff will have checked over your case in detail. Most of the time, they'll be pretty confident that your mortgage application will be approved, and if they're not 100% confident, they should let you know before it gets submitted.
Once the mortgage application is sent off, the lender will review the information that's been provided in addition to evidence such as your bank statements and pay slips. Once they're satisfied that you can keep up monthly mortgage payments, they'll make sure the property is suitable and produce your mortgage offer. 
Is it worth talking to a mortgage broker?
Our initial consultation is always fee free, so there's nothing to lose. 
When you talk to mortgage brokers in Cardiff, like us, you'll have an opportunity to determine any issues that might come between you and the home of your dreams at the earliest possible opportunity. This gives you a chance to fix them before it's too late. 
Why use a Mortgage Broker in Cardiff?
Like with any service you receive, there is an advantage to working with an expert who is familiar with your local area. For example, our Wales based brokers know about new homes and developments in Cardiff – from Plasdwr to Penarth.
You might find we've already arranged mortgages for clients on the development you're looking to buy. This avoids wasting time because we can avoid lenders that don't like certain sites – paricularly if they're overexposed (have lent too much against property in that area).
A Wales based mortgage broker can also have special relationships with local lenders and building societies. These Wales based lenders often have special criteria, or can be a bit more understanding for those who are purchasing in Wales and the surrounding areas. In Cardiff and South Wales, our biggest local lenders are The Principality Building Society, Monmouthshire Building Society and Swansea Building Society. 
I live outside of Cardiff. I know you're mortgage brokers in Cardiff, but can you still help me?
Our systems are designed to work most efficiently when we give advice remotely. So yes, we can help you wherever you are in the UK. Naturally, being mortgage brokers in Cardiff , a lot of our business does come from the Cardiff area, and we feel we can add most value to our Wales based clients. 
Why is Cardiff a popular location to live in and buy property?
We've definitely noticed over the past 5 years or so, that more and more people are moving to Newport, Cardiff and South Wales in general from Bristol or beyond. Cheaper property, easy access to the M4 and main train lines make Cardiff and Newport in particular convenient for commuters.
We're mortgage brokers in Cardiff and Usk, both only about 15 minutes from the M4, but we think the key draw to South Wales are the beautiful beaches as near as Barry Island, and the stunning Brecon Beacons, a place of outstanding natural beauty. 
How do I prepare for a mortgage adviser meeting?
The first thing to prepare is a list of questions you'd like to ask your mortgage brokers in Cardiff. For example, 'what lenders can you access', 'what are your fees' or 'are you regulated'.
You'll also have some questions to ask yourself, like 'how much can I borrow?' or 'how much deposit will I need?'.
At Exley Financial Planning, we'll tell you exactly what you'll need to do to prepare for your meeting with us. Our online fact find portal is where you'll tell us about you and your circumstances, and we'll send you a 'shopping list' of documentary requirements. This would often include bank statements, payslips and photo ID. 
Want to learn more?
Check out our articles below: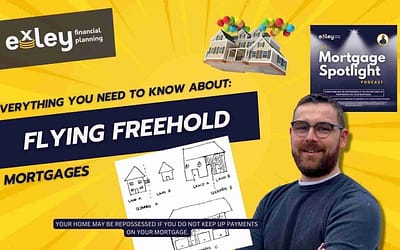 Understanding the Basics Firstly, let's clarify what a flying freehold is. In the realm of property ownership, there are freehold and leasehold properties. A flying freehold, a subset of freehold, typically overhangs another freehold property. Whether it's a balcony,...
read more